Weekly Roundup - August 1, 2022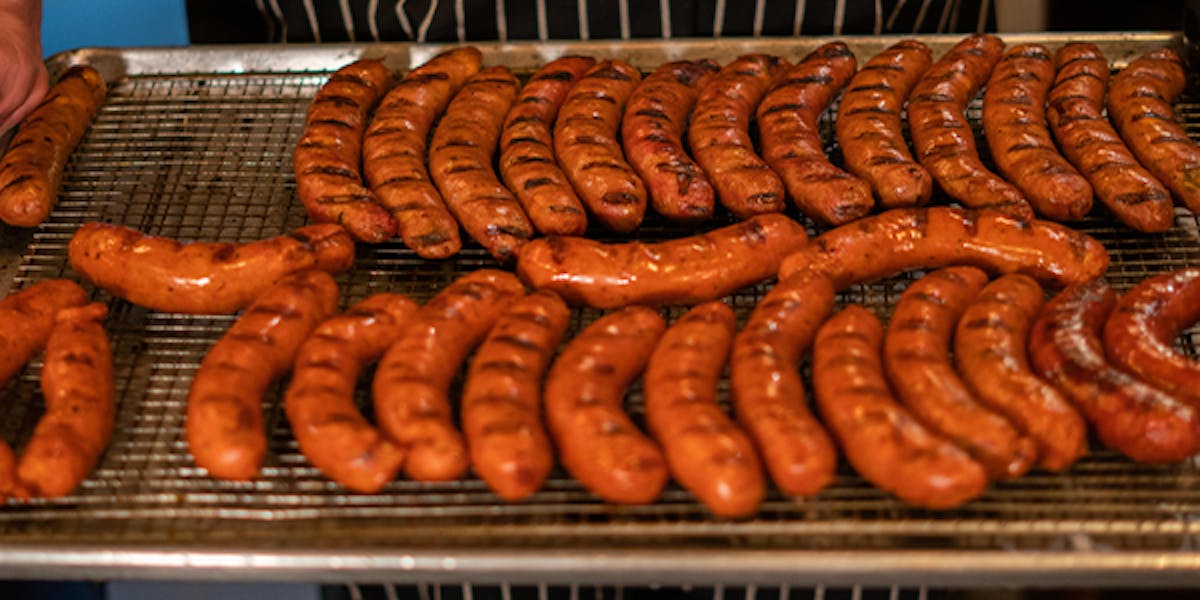 THE TEXAS TRINITY
You can't have Central Texas-style barbecue without three things: Brisket, Pork Spare Ribs, and Sausage. We do them all, and we do them right.
Brisket
Great brisket starts with great beef. We always start our brisket with 100% Certified Angus Beef. Less than 8% of beef meets CAB's stringent specifications for quality. We're talking about the best marbling and maturity for the best flavor.
Pork Spare Ribs
Our ribs are rubbed simply with just coarse black pepper, kosher salt, and a touch of cayenne to bring out the pork's natural flavor. Then they're smoked low and slow until they're falling-off-the-bone-tender and ready for an epic rib stack.
Sausage
Our Hot Links and Jalapeño Cheese Sausage are made just for us to our own recipe. Each link has that satisfying snap and incredibly juicy interior that's delicious on its own or sandwiched in a soft slice of butter bread.
GET OUR BARBECUE ANYWHERE
We deliver nationwide with Goldbelly! Get all of your favorites delivered straight to your door anywhere in the US. Some of our favorites:
The Pitmaster Box
We honor Texas pitmasters and the legendary meat markets of Central Texas with this to-go meal kit brimming with pork ribs, juicy pulled pork, beef brisket, and Hill Country hot links! Also included are flour tortillas, coleslaw, pickles, pickled onions, Martin's Potato Roll Sandwich Buns and Hot Dog Buns, plus a bottle of Hill Country "Gotta Have It" sauce!
Pulled Pork Sandwich Kit
Our signature pulled pork starts with brined, sweet chili-rubbed pork butt that's smoked for 12 hours until the shoulder bone comes out clean. It's then flash-frozen and shipped to your door! Also included are house-made pickled cabbage chow-chow slaw, potato buns, and tangy Hogwash vinegar barbecue sauce.
WASHINGTON, DC
DAVID KLINE BAND with JUSTIN SUEDE
Friday, August 5 • Doors at 8:30pm
LEFT LANE CRUISER with ELI & THE WALTZ
Saturday, August 6 • Doors at 8:30pm
NEW YORK CITY
CHARLES WESLEY GODWIN with STILLHOUSE JUNKIES
Thursday, August 4 • Doors at 7:30pm
JEFF SLATE & FRIENDS: ROLLING STONES 60th ANNIVERSARY CELEBRATION
Saturday, August 6 • Doors at 8:30pm
JOIN THE CUE-MMUNITY
What to know more about Hill Country Barbecue? Give us a follow on Tiktok—we're sharing recipes, barbecue tips, stories, and more everyday!
Copyright (C) *|CURRENT_YEAR|* *|LIST:COMPANY|*. All rights reserved.
*|IFNOT:ARCHIVE_PAGE|**|LIST:DESCRIPTION|**|END:IF|*

Our mailing address is:
*|IFNOT:ARCHIVE_PAGE|**|HTML:LIST_ADDRESS_HTML|**|END:IF|*

Want to change how you receive these emails?
You can update your preferences or unsubscribe